I am announcing my second plugin today! It is Upgrade Else Die. As I had told you before, this plugin is for those who don't want to change the CSS of the forums to be suitable for Internet Explorer 6. If the user is using Internet Explorer 6, a warning message displayed to upgrade the browser.
About
This plugin will place a warning message on the the forum and will be only displayed to IE 6 users and will tell them to upgrade. If they click upgrade button, they will be taken the the upgrade page of IE. If they click No Thanks, then they will be sent to CrashIE which uses a well known bug of IE 6 to crash it. The plugin is inspired from the Upgrade Else Die Plugin for WordPress made by Josh.
This is a screenshot of the warning message displayed: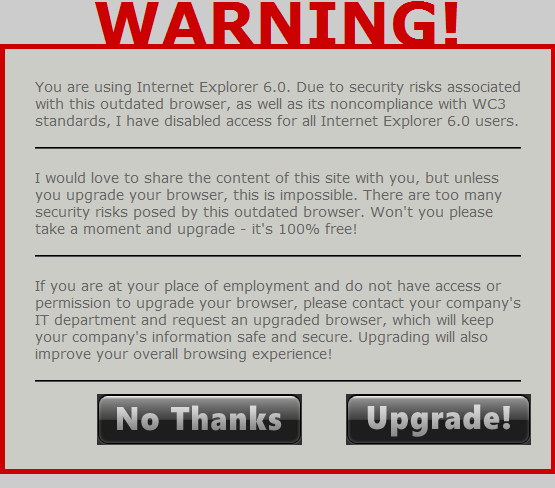 FAQ
Where's the options page?
This plugin is quite simple, and therefore doesn't need any configurable options. Just upload the plugin, activate, and rest easy knowing that IE6 is officially banned from your site.
What do you mean by "it will crash their browser"?
The "No Thanks" button is a link to CrashIE (don't click that link if you're using IE 7 or lower). CrashIE uses a well known bug in IE to their advantage and exploits it with no mercy. The bug is simple, and it's not a "critical" crash. It will simply show the user the ever famous "Internet Explorer has encountered a problem and needs to close" message. After that, they'll have to close the browser and start all over.
Download
You can download the plugin here.
Please do not forget to donate for the plugin.