Hey there! I am going to release two more plugins for bbPress! One of them is Upgrade Else Die and the second is Easy Twitter Links. Both plugins are inspired from the ones made by Josh for WordPress.
Upgrade Else Die
There are so many people who hate Internet Explorer 6, and do not want to maintain their website's look for IE 6. This plugin is specially made for those people. This plugin will place a warning message on the the forum and will be only displayed to IE 6 users and will tell them to upgrade. If they click upgrade button, they will be taken the the upgrade page of IE. If they click No Thanks, then they will be sent to CrashIE which uses a well known bug of IE 6 to crash it. The plugin is inspired from the Upgrade Else Die Plugin for WordPress made by Josh.
Easy Twitter Links
Easy Twitter Links plugin automatically links @example_username to a Twitter user, and #hashtag to Twitter search link. For example, if you post @gautam_2011, it would become a link like @TheGautamGupta and if you post #bbpress, it would become #bbpress. The links will also have rel="nofollow" and target="_blank" so that your site's link juice doesn't get leaked into the popular social networking website Twitter :P. This plugin is inspired from the EZ Twitter Links Plugin for WordPress made by Josh. Here is a screenshot below: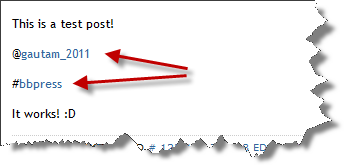 Also, I will be releasing Social It 1.2 soon with some new features and bug fixes. You can see more information about upcoming features of Social It 1.2 here.